WHAT WE DO
Full-Service Interior Design
By approaching every project from concept to completion in its entirety, clients benefit from our complete complementary services of master planning, building design, and interior design.
Combining our creative and expert team with our extensive hospitality interior design experience, we work with you to deliver memorable interiors that meet your aspirations, timescales, and budgets for the project. The result is a unique environment that will look fresh in years.
VIEW OUR PROJECTS
WORK STAGE - PHASE 1
Planning & Concept
Feasibility
This project's initial phase includes preliminary studies of the site or property. We'll learn more about the detailed brief, your design preferences, your desired atmosphere, and the timescales and budgets. Planning and concept will start with schematic space planning in coordination with the Client. After approval of schematic space plans, we will prepare an initial design presentation.
Coordination with other Consultants, i.e., Architects, Acoustic, Lighting, Mechanical and Electrical, will be an ongoing exercise during this phase. They prepare preliminary space requirements and propose plant locations to the designer. We will develop layouts for your property as we begin to investigate finishes, design styles, and influences.
→ Output(s) to Expect:
Initial layout plans (primarily hand-drawn rather than CAD) for the interior spaces as outlined in the Scope of Work,
"Mood boards" consisting of photographs and sketches indicating probable design styles,
Loose presentation of proposed materials, and
Finishes for Fixed Décor (floor, wall, and ceiling) interior finishes may be included.
WORK STAGE - PHASE 2
Design & Development
Plans review
During this phase, we'll review the approved drawings, layouts, and material from Phase 1 with the Client, Architect, and other consultants to assure all existing conditions are accounted for and explain any aspects as required.
→ Output(s) to Expect:
Refined Layout plans will be prepared, and elevations to best convey the approved design concepts.
In addition, developed FFE (Furniture, Fitting & Equipment), Joinery finishes, and Fixed Décor (floor wall and ceiling treatments) will be presented on material and color boards to characterize the project further.
We will source preliminary quotations for FF&E items based on design directions agreed on during Phase I. At the same time, the client (Client's Quantity Surveyor and other Consultants) will review the budget to assure conformance between the Phase I concepts, Phase II design development, and the original budget.
WORK STAGE - PHASE 3
Construction Contract Documentation
Technical designs & specifications
This phase includes preparing FF&E Final Selections, Joinery Design, Fixed Décor Design Drawings, and Specifications.
→ Output(s) to Expect:
Floor and ceiling plans, elevations, sections, and details are produced as Cad Scale Drawings. Design Drawings will be compiled in coordination with Structural, Mechanical & Electrical drawings.
Freehand or hardline sketches will be done for FF&E and Joinery. The nominated supplier/manufacturer will provide all shop drawings for furniture and furnishing.
Furniture schedule and specifications for finishes are produced that correspond to the architectural drawings
WORK STAGE - PHASE 4
Recommendation / Assistance to Bidding and Negotiation.
Tender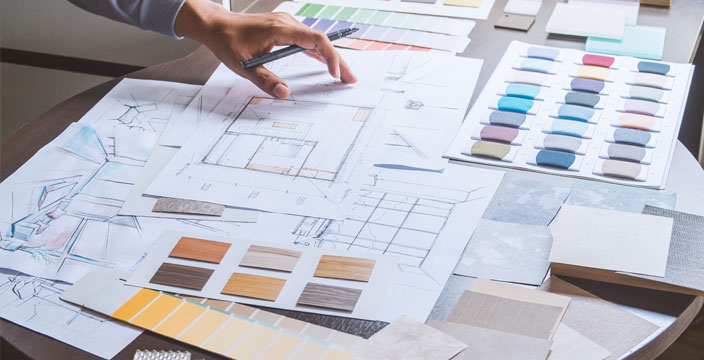 During this phase, we'll work with the Client, the Quantity Surveyor, and other Consultants to conform to the approved and established budget.
→ Output(s) to Expect:
At the Client's request, we'll assist in the negotiations and make reasonable adjustments to the documents to meet budgets.
The timing for this Phase would be determined by the Clients method of tender and would need to be determined at a future date to coordinate with the project schedule.
WORK STAGE - PHASE 5
Home Office Coordination and Liaison
Review during construction
While the project is on-site, we'll provide home office coordination to ensure continuity of design intent and maintenance of quality standards.
→ Output(s) to Expect:
Also included is the approval and documentation of substitutions and changes due to non-availability or obsolescence of any specified item.
We will review shop drawings and samples and indicate approval or necessity for revision.
We'll visit the project site periodically to review FFE prototypes and ongoing Fixed Décor Construction progress. This ensures work is carried out following the drawings, specifications, and design intent.
Regular visits to the site do not construe full-time Site Supervision, which may be addressed as a separate service upon the Client's request.